BEST INVEST GUM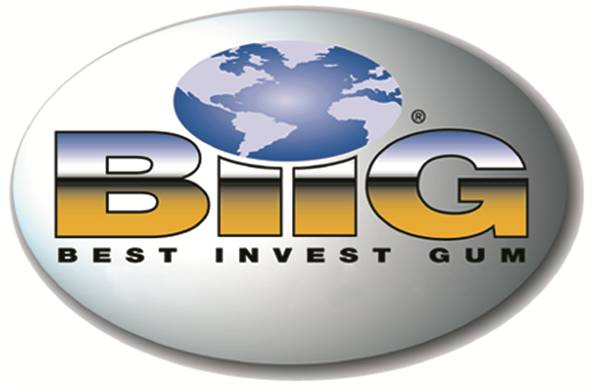 The brandname for our top end membranes is BIIG® (pronounced as BIG) derived from the abbreviation Best Invest Gum. There is no better investment in flat roofing to be found on the market. These membranes benefit from a long professional track record thus guaranteeing consistent high quality to our customers.
The particular characteristics of the BIIG® membranes
BIIG® membranes are developed to compete on the highest level when it comes to waterproofing. The technology of the double reinforced membranes, with a technical know-how dating back to 1964, has great advantages compared to traditional mono reinforced membranes.
All membranes meet the highest specifications:
absolute dimensional stability: the 2R reinforcement technology and design means that BIIG® will resist deformation for its entire lifetime.
resistance to ageing: the inorganic fibreglass reinforcement on the surface acts as a shield against UV rays. The organic material of the membrane compound itself is thus protected and does not degrade.
puncture resistance: because of its double reinforcement, BIIG® has high resistance during application, high resistance to pedestrian traffic and is not damaged by hail.
fire resistance: the presence of the fibreglass on the surface represents a valid obstacle to the spreading of fire.
reduced maintenance: BIIG® is normally left without further protection and necessitates only a simple annual inspection to make sure that the surface is clean and free of debris or vegetable matter.
BIIG® is designed for all kinds of specifications and for all kinds of application techniques, including the use of cold adhesive.
Why choose BIIG® ?
If you consider the exceptional product properties of the membrane, BIIG® becomes the logical choice. BIIG® guarantees optimum results in all types of climates and in all kinds of weather conditions. The special characteristics of BIIG® enables you to obtain top results with a modest investment, which is why we have called the product "Best Invest Gum".
40 years of experience
BIIG® membranes can trace their origins to the technology associated with producing these types of membranes which has been established for over 40 years. This membrane has become the standard in waterproofing and we can find their type applied to some of the most prestigious projects all over the world. The product is inspired from an original concept, but has been redesigned, tested and updated profiting from the more advanced manufacturing and quality control processes available today. Today we are in a position to offer a single ply membrane manufactured to very precise and superior technical characteristics, using latest generation raw materials of consistent quality and using more sophisticated and accurate manufacturing processes. These developments have allowed us to obtain a finished product that gives even greater guarantees of quality and durability - making BIIG® your ideal waterproofing partner.
A wide choice of application techniques, a wide choice of specifications…
BIIG® can be applied in various methods. The most common are:
Fully bonded, in cold adhesive or by torch,
Partially bonded, either with adhesive or by torch.
Loose-laid with gravel or paving protection.
Mechanically fixed with welded laps.
BIIG® is designed for use in a single ply application. However it can also be used as a cap sheet in a two ply system with an approved underlay. BIIG® is available in a variety of versions and for use in roofing and structural waterproofing applications. Contact our technical services or your local distributor for further information.